Hello fans, friends & stalkers!
Things are about to get even hotter this DomCon,
who is coming out to join in the fun?
Basking in the sun after training slaves all night,
thats Me in My sexy red latex
DomCon week is usually so packed with activities and friends in from out of town that We have usually decide to keep Our popular CFNm play party separate. This year if you travel into town you are in luck because you wont have to decide between the two events! Come enjoy all that DomCon Week offers www.DomConLA.com including classes, parties and vendors on site so you can bring Me presents.
If I need to relax I know I can find My way to the Whiplr lounge hosted by Domina Simone Justice! I had a blast there last year and am looking forward to seeing all the other Whiplr elites there! Be sure do download their ap to stay connected with or make friends at the event!
Save your Friday night and spend it with LA's Top Mistresses at The Ivy Manor in DTLA just 18mi from LAX Hilton. I can take more sessions if you'd like 1on1 or even 2on1 (double Domme or cuckolding) time as of right now typing this blog.. As the week gets closer I will be too busy to consider additional requests so make yours now by visiting My website. My dungeon is less than 7 miles from the LAX Hilton = No hotel sessions. Be sure to deposit so that you are able secure time with Me. www.SheriDarling.com Please refrain from calling or emailing to ask about a session during DomCon & instead make your request via My website.
Don't miss your chance to show off to a group of gorgeous Goddesses what a good boy you can be! What are you waiting for? Come spend an evening full of uninhibited play at what has become LA's most coveted and exclusive "underground" Multiple Mistress/slave party. Step into a FemDom world where you are subject to Our every perverse whim and desire… you can even buy your outfit on site at the DTLA DeMask Latex store!
Creator & Host of Eyes Wide Shut CFNm Play Party
Divine Bitch Aiden Starr - Host
Ivy Manor + Gwen Media Owner & Host Isabella Sinclaire
Host Ms Eden Winter & I at the first Eyes Wide Shut Party in 2013,
photo by Tommy O
Come serve Myself + 11 other Mistresses for hours of uninhibited play!
* Next party is 5/19/2017 *
* Location: Ivy Manor in Downtown LA*
TICKET LINK
CLICK HERE
5/15 & 5/15 DomCon Parties
My favorite past scenes at Our Multi Mistress parties have included smoking / ashtray service, making boys do things they claim they dont want to do but end up doing very well, use of all sadistic toys, tease and denial, enjoying the suffering of someone who really wants to please Me, testing your slave limits & playing some quite fun kinky games together ;)

you could always come & just mingle
I'm positive that you'll want to amuse Us & play.
2,500 square feet of play space with state of the art dungeon furniture including
private DeMasK DTLA showroom
. The showroom will carry only the finest fetish wear available by DeMasK latex as well as other BDSM play essentials which are "slave tested, Mistress approved", insuring the best quality items are available to customers and collectors. The showroom will be open and all items available for purchase during the party.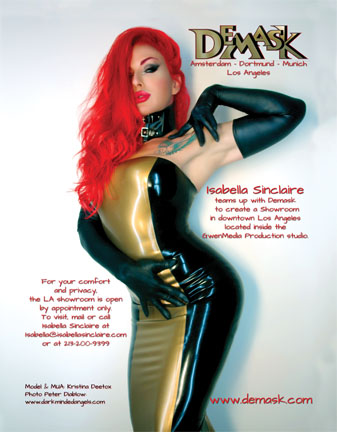 With an open floor plan, delicious champagne/hors d'oeuvres bar, lounge seating, bathroom with walk-in shower, play area with custom made double St. Andrews cross, spanking horse, canopied bondage table, throne, and pommel horse as well as the DeMasK showroom.
Upper Level
Here you will find the white tiled Medical Play area with gyno table, small lounge area, bathroom with shower/tub. Step a little further to the rear and you will find beautifully appointed play room. With a more intimate feel this room features custom throne, bondage horse, padded bondage table/cage, steel frames for standing bondage and more.

What should I bring in My toy bag?!
TICKET LINK
CLICK HERE
www.SheriDarling.com
www.spoilSheri.com
www.Niteflirt.com/SheriDarling
www.iwantSheri.com
Call here to chat about FemDom CFNm parties: HERE
Lets plan your or My outfit: HERE
Listen to My FemDom
Party training
prerecorded plan for you: HERE
Listen to a prerecorded
party recap
of some fun I had: HERE
Hear about a
kinky game
I like to play prerecorded: HERE