Special note:
Two weeks ago, Isabella Sinclaire received a phone call stating that the oldest of her adopted children, age 17, had been in a horrible car accident and was in critical condition. There is a GoFundMe page that has been set up to help with her son's medical costs. Please check out the page, make a donation &
share the link. Thank you.
In addition to being located in OC & taking sessions here and at My favorite West LA dungeon I
am currently taking sessions at Mistress Isabella Sinclaires Ivy Manor
. Her gorgeous dungeon is located in Downtown LA, deposit & 24hr notice required.
Multi Mistress Play Party Coming Up!
Ms Eden Winter & I, photo by Tommy O
Come serve Myself + 11
other Mistresses for hours of uninhibited play!
* Next party is 10/9/2
015 *
* Location: Isabella Sinclaire's Ivy Manor in Downtown LA*
Attending Mistresses:
(Unfortunately Mistress Isabella Sinclaire will not be attending this party. I strongly encourage you to bring your tribute for Her, or better yet click the GoFundMe link & make a donation)
9/19/2014
8/1/2014
7/4 Bondage Ball
6/6/2014
5/15 & 5/15 DomCon Parties
3/21/2014
1/31/2014
11/22/2013 My Birthday
9/27/2013
My favorite past scenes at Our Multi Mistress parties have included smoking / ashtray service, use of all sadistic toys, tease and denial, testing your slave limits & playing some quite fun kinky games together ;)
you could always come & just mingle
I'm positive that you'll want to amuse Us & play.
Don't miss your chance to show off to a group of gorgeous Goddesses what a good boy you can be! What are you waiting for? Come spend an evening full of uninhibited play at what has become LA's most coveted and exclusive "underground" Multiple Mistress/slave party. Step into a FemDom world where you are subject to Our every perverse whim and desire…
New Venue - Isabella Sinclaire's Ivy Manor
Newly remodeled, 2500 square feet of play space with state of the art dungeon furniture including
newly launched private DeMasK DTLA showroom
. The showroom will carry only the finest fetish wear available by DeMasK latex as well as other BDSM play essentials Isabella refers to as "slave tested, Mistress approved", insuring the best quality items are available to her contemporaries, customers and collectors. The showroom will be open and all items available for purchase during the party.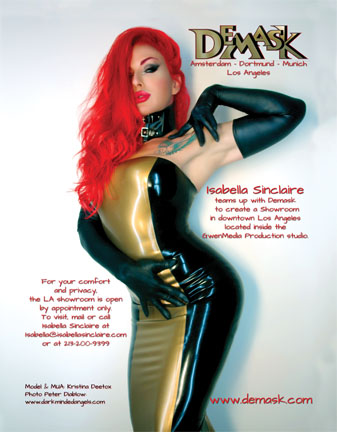 With an open floor plan, delicious champagne/hors d'oeuvres bar, lounge seating, bathroom with walk-in shower, play area with custom made double St. Andrews cross, spanking horse, canopied bondage table, throne, and pommel horse as well as the DeMasK showroom.
Upper Level
Here you will find the white tiled Medical Play area with gyno table, small lounge area, bathroom with shower/tub. Step a little further to the rear and you will find beautifully appointed play room. With a more intimate feel this room features custom throne, bondage horse, padded bondage table/cage, steel frames for standing bondage and more.

What should I bring in My toy bag?!